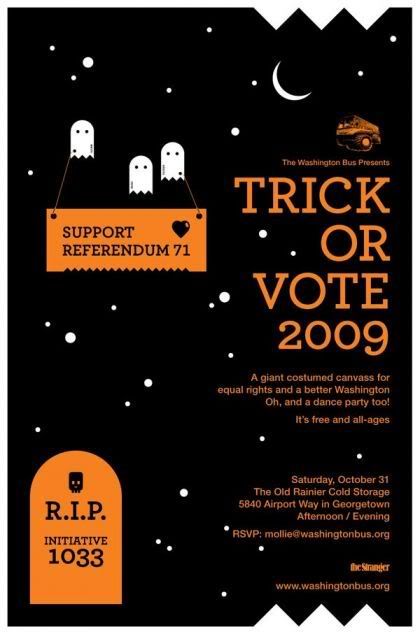 Join the Bus, Approve Referendum 71 and No on I-1033 on Saturday on, October 31st to Trick or Vote in support of equality and a better Washington. Like equal rights for domestic partners? Us too. We're going to be telling voters all about R-71. And like a state that can actually fund little things like education, health care and environmental protection? We're going to be making sure everyone knows about the impacts of I-1033.
Trick or Vote 2008 saw over three hundred young people in costume, knocking on doors all across King County, and making sure young people voted in the election. This year, we're going even bigger. And dare we say better.
So what do we need? You! And your friends. In costume. Ready to knock on some doors, get some candy and remind folks to turn their ballots in.
We'll be meeting up in our awesome (and dare we say spooky) Georgetown location (the Old Rainier Cold Storage – 5840 Airport Way South) in the afternoon, going out to Trick or Vote, and then returning for the afterparty. Yes, it's free. Yes, it's all ages. And yes, you get to eat all the candy you can handle! That's what we call real politics.
To reserve your slot rsvp online here. We'll see you there!